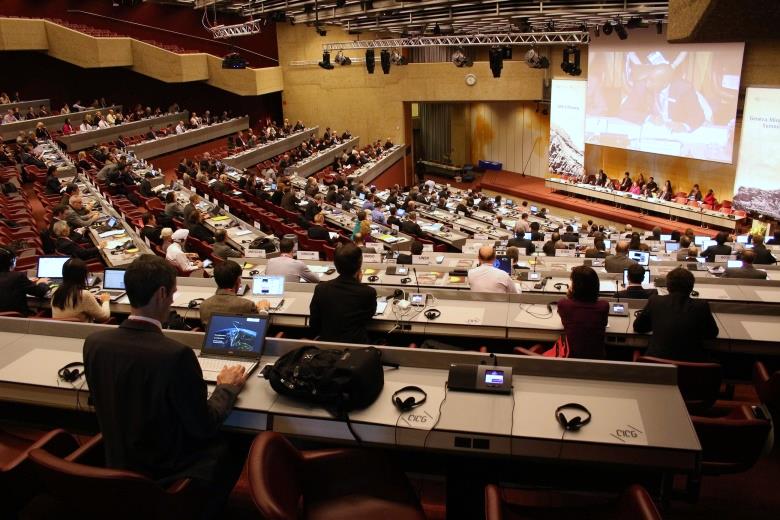 The Tenth Plenary Session of the Group on Earth Observations (GEO-X) and the Geneva Ministerial Summit were held from 12-17 January 2014 at the International Conference Center (Centre International de Conférences de Genève or CICG) in Geneva, Switzerland. Approximately 700 delegates, representing over 50 countries and more than 45 organizations (public and private), attended the Plenary Session and the Ministerial Summit.
The week began on Sunday, 12 January. Aside from the Plenary Session and the Summit, it included side events, meetings of various GEO working groups and an associated Exhibition. Exhibitions are key components of such events, providing practical examples of GEO achievements from participating countries.
The GEO-X Plenary Session convened from 15-16 January, followed by a high-level discussion panel in the afternoon of Thursday, 16 January. The GEO Ministerial Summit took place on Friday, 17 January.
Dr. Tsuneo Matsunaga, Dr. Eric Dupuy and Mrs. Shijuan Pang were the representatives of the NIES GOSAT-2 Project team in Genève, convened a side event in support of the organizer JAXA in the morning of Monday, 13 January. They also contributed to the Japanese stand (hereinafter "Japan GEO") at the Exhibition, by showing the achievements of NIES for the GOSAT and GOSAT-2 missions.
There, on Thursday, 16 January, Dr. Matsunaga gave a short lecture as part of the series on "Japan GEO contributions to Sustainable Development Goals (SDGs)" intended for the general audience. As members of the Japanese official delegation at GEO-X, Dr. Matsunaga, Dr. Dupuy and Mrs. Pang also attended parts of the GEO-X Plenary Session.
The Japan GEO members decided to organize a series of short lectures on Wednesday and Thursday 15-16 January, at lunch time. Among the six short lectures (three on each day), one was given on Thursday by Dr. Matsunaga, entitled "Greenhouse Gases Observations from Space: GOSAT and GOSAT-2".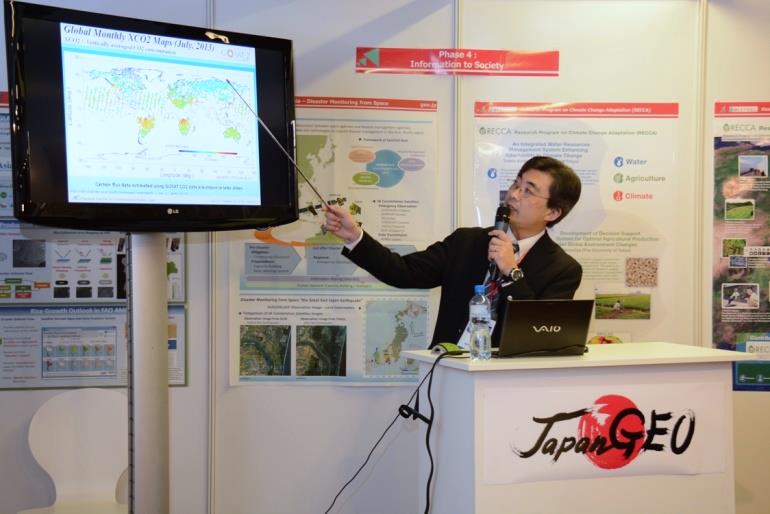 During his talk, Dr. Matsunaga emphasized the increasingly long series of high-quality greenhouse gases data that GOSAT has been providing to general users. He presented time series of dry-air mole fractions of carbon dioxide and methane (XCO2 and XCH4), global monthly maps of XCO2 and example images of smog and aerosol pollution observed by the CAI sensor aboard GOSAT.
Dr. Matsunaga also talked about the expectations for GOSAT-2, which is scheduled for launch in early 2018. He explained that GOSAT-2 would contribute to a better understanding of the nature of carbon sources and sinks, hence to improved predictions of the carbon cycle under future warmer or more extreme climates.
Dr. Matsunaga concluded by stressing the importance and involvement of the GOSAT-2 Project Team at NIES in multiple domestic and international decision processes regarding net carbon emission reduction policies, such as REDD+ and JAM.
At GEO-X, NIES members displayed the latest Japanese achievements within the GEO/GEOSS framework, side-by-side with GEO contributions from JAXA, JAMSTEC, AIST, Tokyo University, GSI and RESTEC.
Posters of GOSAT and GOSAT-2 and a banner for GOSAT-2 were set up at the Japan GEO stand. Visitors who came to see the GOSAT/GOSAT-2 section included overseas exhibitors, domestic researchers and doctoral students, representatives of GEO member countries and members of the press.
Visitors enjoyed friendly international exchanges and praised the exhibition as an opportunity for future studies related to Earth observation. Some of them specifically complimented Japan GEO for the interest of the posters and the high focus on actual scientific achievements and outreach programs, with meaningful and detailed information.